The Web Summit 2018 is going to be a blast
The best technology conference on the planet, according to Forbes, is coming up now in November. Over 70 000 attendees from more than 170 countries will make Web Summit in Lisbon a global meeting place for the world`s most disruptive tech companies.
Why does it matter? Such a large-scale conference makes networking even more powerful, offering a great opportunity to reach out to the most important decision makers and investors, meet customers or even competitors. At Web Summit you can meet the CEOs, founders and C-level executives from Fortune 50 companies and the most influential investors from Silicon Valley. On top of that, it is a great chance to get inspiration and learn from those people who are experts in their respective industries and those who dictate how quickly new technologies are adopted.
Intelecy is selected for the BETA Program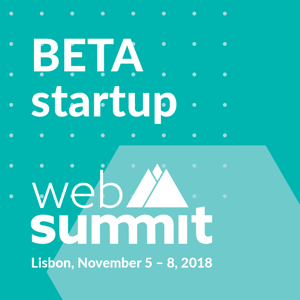 Web Summit is supporting ambitious start-ups on different stages of the development. Intelecy is happy to be admitted to the BETA Programme. The program is a perfect fit for Intelecy's global expansion strategy. Earlier this month Intelecy opened a new office in London, preparing for its product launch later this year.
Come and visit our booth in the BETA exhibition area where we can show how Industrial Machine Learning can add value to manufacturing and how companies easily can access and better understand their own production data. Whilst being in the spotlight, Intelecy will be open to meet future partners or just curious minds that want to stop by and talk.
Being a part of a program not only means networking and pitching to a broader public, it is also about bringing value to others.
Presentations you should attend this year at WebSummit

The beauty of WebSummit is that under one roof you can access various industry tracks where you can listen to speakers that align with your field of interest. If you are interested how the AI technology disrupt and transform the way we live and wish to learn how to embrace digital transformation, turn your attention to such tracks as SaaS monster, AutoTech & TalkRobot and Binate.io. The key influencers in AI field coming from world leading companies will share insights on how to excel in a new digital era and therefore attention is going to span when looking at the variety of speeches.
For AI-saavy minds, Intelecy shares what is on the top of our "must hear" list within all three tracks. We hope it will help you to navigate in highly informative environment and get the most out of the upcoming WebSummit.


Auto/Tech & TalkRobot

Tuesday Nov 6
"China's automated factories of the future" 14:55 - 15:15 (20min)
Along with heading up influential firm Shenzhen Valley Ventures, Chad Xu is also the founder of Zowee, the second largest hardware manufacturer in China, rolling out 5 million smartphones per month. He'll talk about the future of hardware manufacturing in China, a country that's quickly going all in on automation and using AI in unprecedented ways to replace human workers.
"Is AI more hype than reality?" 16:10 - 16:35 (25min)
As the ultimate gamechanger, Artificial intelligence is being hailed and feared, sometimes in equal measure. Onlookers wonder whether AI will deprive us of jobs, change how we run businesses or, on the flipside, fundamentally improve our quality of life. Five executives from well established enterprises will take a stage to reflect whether AI has actually been overhyped and is currently under-delivering.
Wednesday Nov 7
"Promises & pitfalls of the new AI era" 12:00 - 12:20 (20min)
Does artificial intelligence capable to tackle major global challenges? The CTO of Samsung's innovation team, who also was a pioneer in AI voice technology as Apple's original Siri director, weighs in, offering up tangible steps to break through the current technological limitations.


SaaS Monster
Wednesday Nov 7
"Opportunities for people in an age of AI", 10:45 - 11:05 (20min)
Over the next 20 years, AI will enable revolutionary advancement in areas like healthcare, agriculture, education and transportation. How to ensure that AI is designed and used responsibly, establishing ethical principles to protect people? How should we govern its use? And how will AI impact employment and jobs? Brad Smith President of Microsoft Corporation together with Journalist from CNBC Elizabeth Schulze Multimedia will share their vision.


Binate.io
Wednesday Nov 7
"Decision intelligence" 11:15 - 11:35 (20min)
Machine learning and artificial intelligence are no longer science fiction, but what does it take to harness their potential? Cassie Kozyrkov, Chief Decision Scientist at Google will talk about how machine learning is being used, and take a look at what's easy, what's hard, how to spot opportunities, and what you need to know to avoid the two biggest threats in AI. Along the way, we'll meet an emerging discipline that focuses on using machine learning and AI to improve your business.
We look forward to seeing you in Lisbon!